Valuable materials from world production areas,
delicious products from factories of the world with solid and reliable technology…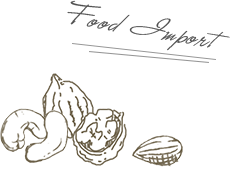 We deliver delicious ingredients from around the world with high quality at the best cost by importing and delivering.

We handle a lot of raw materials, processed goods, products from China, Asia, North America, and Europe. We provide consistent service from pioneering and procurement of ingredients, manufacturing management with Japanese quality to efficient import&logistics operations. In addition, we have utilized our network with many producers and cooperating manufacturers, including our own factory, to manufacture private brands and develop and import proprietary products.